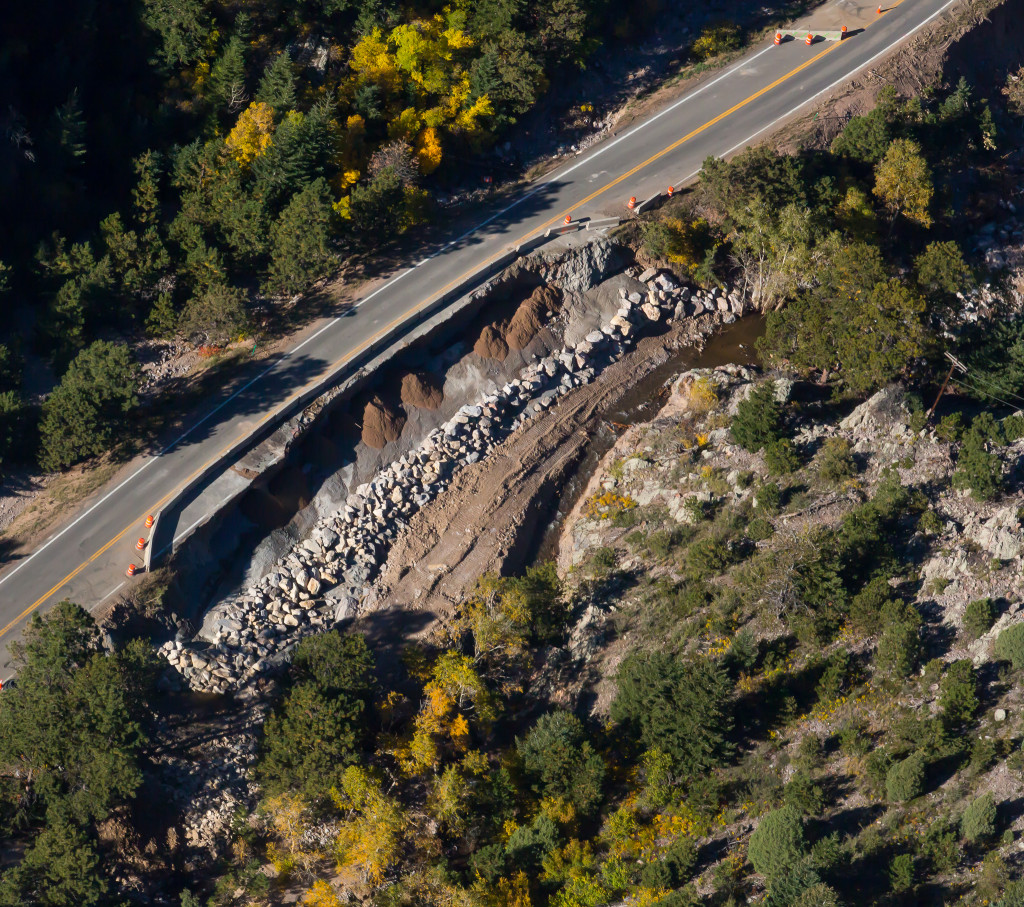 (Highway 72 Flood Damage From The Helicopter We Hired in Early October 2013)
After buying the camp property in late April 2013, we informed everyone of the big change to a new home (nobody minded!) and had a short two-week session in August and a Family Camp over Labor Day. The next week, on Wednesday, September 11, Tom and I hopped on a plane to Fresno, California to go get some boats for the lake. I remember sitting on the plane in Denver thinking "It's really raining a lot." Understatement. Big Time.
Tom and I were met in Fresno by the owner of Gold Arrow Camp, an inspiring camp in the Sierras on Huntington Lake. They were retiring some of their sail boats and we decided to go pick them up, along with a dozen kayaks. Tom and I visited the camp, loaded the big truck, and started on our way back to Colorado, where it was still raining. A lot.
After a quick rest in Barstow and early morning drive down the Vegas Strip, we decided to push all the way back to Boulder that day. Problem was, we couldn't make it. Kathy Sabine told us (too late) on the iPad broadcast that the storm was going to dump a lot of rain and not go anywhere. Even on the Western Slope, there was too much rain to drive through the night.
My biggest regret now was our stop at the Grand Junction Home Depot to buy a sump pump for my basement. A huge wall of sump pumps, generators, and other good stuff in front of me and I grabbed a little one and walked away. Did I tell you I had a big truck? I should've bought everything that would fit in the truck. We were about the first ones back into town on Friday morning, where the Home Depot in Boulder (and everywhere else) was cleaned out of sump pumps and supplies. We could've acted like a delivery truck by just returning what we had bought and provided more resources for people here in town. Instead we just brought a truck full of used sailboats and kayaks. A little ironic.
The next few months, Tom and I worked out Panera Bread as getting to camp took many hours and lots of horrible back roads. By the time Coal Creek Canyon was fixed, it was early December and the weather was turning. We didn't really get to experience the first autumn at camp, but now we had camp boats!